I will be having in a group show next Saturday on the 17th at Art Attack SF Gallery. I have SEVEN pieces that will be up for showing and some prints for sale. Come on down if you're in the area and see everybody's interpretation of some comic book heroes and villains. Also comic style artwork! (This includes manga and pop culture comics). All the information will be as follows:
On August 17th in the San Francisco, California USA
Art Attack SF and Pabst Blue Ribbon bring you into the world of Comics!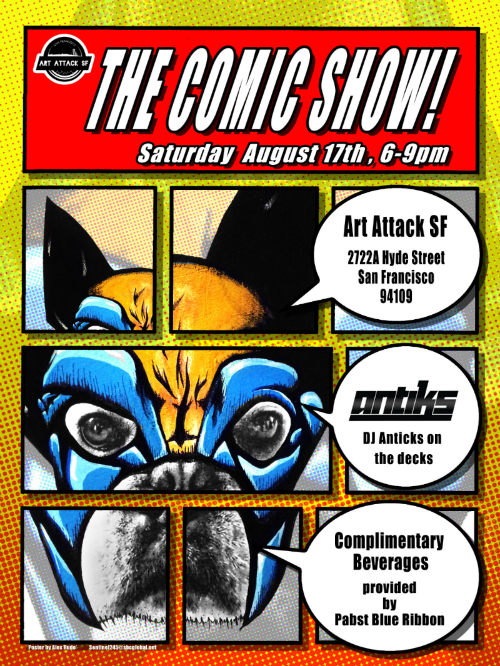 Saturday August 17th 6-9pm
A fan of comics or never read a comic in your life? This show will be for you either way! We have artists from all over San Francisco and the Bay Area bringing you all styles of comic inspired art, nuff' said!
The all mighty DJ Anticks will be on the decks all night and clobberin you with the sounds of justice! 
Pabst Blue Ribbon will be refreshing your life pool with complimentary beverages until supplies last. 
*Must be 21 to drink.
The Art Superheroes include-
Zebulon, Norio, Eri Wakiyama, Lil' Zen Ten, Alfredo Ramirez, Turtle Wayne, Stefan Kietzman, Al Khum, Monica Mondro, Jill Silva, Aaron Isaac Joshua, Kevin Wada, Zachary Sweet, Chris Lee, Christopher Macaraig and MORE!